I thought I wanted to share an amazing discovery from Tokyo, Japan. Where truck ads are often used to target younger audiences. Examples as the picture below, show us how flashy they can get and certainly capture the attention of people. Especially in the crowded Shibuya crossing, which can have a thousand people waiting for the lights to turn at any given time. Obviously this particular truck passes trough there often, and is where the picture was taken.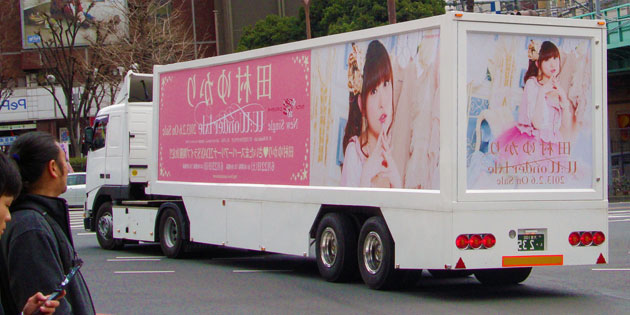 Without a doubt, a billboard will never be as effective as this flashy track ad. Because trucks are rarely used in advertising. Imagine if every truck would carry an advertisement, it would not be that effective anymore. However, this is often the case with billboards. Cities are loaded with them, and people ignore them.
Of course the secret to advertising is that it's unconscious, but what if we can create an even more conscious process out of it. Then it will be much more effective, right? Well in Tokyo, they have definitely realised this and are using this trick throughout the year.
Because simply the fact is, that most cars cannot carry advertising. This is why, car ads will remain to be a very unique and special market in the marketing world. While we are not targeting trucks that much at the moment, we hope to get more clients with such wishes. We will certainly make all our clients dreams true to our best ability!